Animation. An expressive form of storytelling, bringing illustration to life through frames, turning drawings into a vivid, living piece of work. A medium to give a sense of expression that real life does not always capture. Something once considered goofy and innocent grew up to serve various purposes. From Steamboat Willie to propaganda cartoons starring Daffy Duck, it seemed that the farthest a cartoon would go in terms of suggestive material would go above any kid's head, and into an adult's heart. A little over halfway into the century, these cartoons would evolve into what we know today as adult animation. While cartoons were intended to be for a broad audience, a lot of shows took the opportunity to appeal to families. One of the earliest examples to take the opportunity to air at primetime is Hanna-Barbera's The Flintstones, which premiered in 1960. The sitcom is basically a sitcom set in the Stone Age, featuring enough slapstick and humor to make the cartoon fun for any age to watch. For its time, the Honeymooners-inspired series broke ground for primetime television and animation. While the show is tame compared to what we have today, primetime meant that an animated series could build an audience that did not focus just on kids, and families could watch the show together. Kids would come for the slapstick, adults would come for the situations and subtle dialogue. It was also a hit for advertisers who, back in the time when cigarettes weren't bad for you, didn't mind having product placement within the show.
Fast forward to December 17, 1989. The Simpsons premiered on Fox on a Thursday evening just in time for Christmas. Two years after starring on shorts from The Tracey Ullman Show, this turned out to be a groundbreaking success for Fox, and for series creator and Life in Hell comic illustrator Matt Groening. Not long after, other animated series came up on the network frequently to the point where Fox became an early hub for primetime animation. Critical success became a pattern for the network when King of the Hill, Family Guy, and Futurama, topped off the 1990s. Less-remembered animated series, such as The Critic and The PJs, with the former originally airing on ABC, ran short runs in the late 90s on primetime as well. By 2005, Fox had deemed that its cartoons could be enough to sustain a two-hour block on Sunday evenings. Gaining the attention of fans by reviving Family Guy a second time and ordering the first new animated series in years, American Dad!, it's no wonder they realized how well an animation block would work. Thus, the birth of Animation Domination began on May 1, 2005. Arguably, Fox had a very popular block on their hands for nine years, but it was not without controversy, nor without several bad judgments. The block eventually came to a close 9 years later in 2014, and with its recent revival, it seems there's still a lot to discuss about how the block will perform in its second incarnation. However, without the success, or failures, of Animation Domination, adult animation would not be where it is today without some of the lessons learned from Fox's once-seemingly-powerful block.
Chapter One: The Golden Era (2005-2009)
On May 1, 2005, Family Guy made its triumphant return from cancellation, with an unprecedented move from successful DVD sales, which in turn were thanks to high viewership of reruns on Cartoon Network's Adult Swim block. Fox's animation staple, The Simpsons, as well as newcomer American Dad! and Mike Judge's King of the Hill, were also on Fox's animation block for Sunday nights. Notably missing was Futurama which, after having multiple issues in being consistently aired in a profitable timeslot, was unfairly cancelled in 2003. Or rather, Fox simply stopped ordering more episodes.
Besides that, the first few years could be considered a golden era of adult animation for any channel. Whether or not any of the series from that era hold up today, Fox's success was considered the best spot for any creator's animated series, at least from the outside. While many unique producers pitched their series to Fox, there were a couple of problems that were consistent in the pitches that were not accepted. We will get to that later though, as the pattern did not become immediately obvious until certain shows were announced. The next four years for Animation Domination were smooth, with attempts to change the lineup nonexistent until 2009 when King of the Hill came to an end. With Fox in good faith that Seth MacFarlane could deliver a third successful show to the network, and wanting to give Mitchell Hurwitz another deal after cancelling the critically-acclaimed, yet ratings-troubled Arrested Development, this could be an indication that Animation Domination faced problems as early as 2009.
As any time before 8:00 is a time that most shows perform poorly in viewership, Fox needed to make a decision on which of the five animated shows would be moved to that block. Seeing that King of the Hill was ending soon, it only made sense to move its regular run to 7:30 and to give Sit Down, Shut Up a chance to shine. This show featured familiar voice talent, with Jason Bateman, Will Arnett, and Henry Winkler reuniting from Arrested Development, and was based on a short-lived Australian sitcom of the same name. With the show being a very fresh face to the Animation Domination lineup, it is no wonder that Fox was excited to promote the series by placing it between The Simpsons and Family Guy at 8:30PM.
Unfortunately, Fox's judgment could not have been more disastrous. Sit Down, Shut Up began its run far too late in the season on April 19, 2009, which is close to the end of a normal broadcast season. After just two episodes, Fox immediately shoved Sit Down, Shut Up in the worst timeslot on the block: 7:00, the very time that killed Futurama six years prior. As a result, the show met a gruesome end after just four episodes, and Hurwitz's animated series was hardly given a chance to make up for it. The next nine episodes were saved for syndication later that year, and aired at 11:59 PM on Saturday evenings, which seemed like twisting the knife in a mortal wound. While it's easy to admit that the first few episodes are terrible, the show's best episodes were not given a fair spotlight to air. Because of that, it is mostly a forgotten show, with the exception of some of the show's staff. When Arrested Development premiered its fourth season on Netflix in 2013, one of the episodes released gave a fairly decent nod to Sit Down, Shut Up by having it pop up in the background during a scene.
Now, what about The Cleveland Show? Despite the initial odds of survival, the show went on to steal the 8:30 PM slot, and this is when the Animation Domination block became the home to three Seth MacFarlane cartoons, and just one from Matt Groening, with Mike Judge's King of the Hill ending that year. The diversity by creators had mostly been destroyed, and future attempts for other cartoonists to shine became near-impossible. Remember when I mentioned that other pitches were made to the network? The first problem in these pitches being made appeared to be the premise. If a nuclear family was not the center of the series, Fox seemed quick to pass on it. Sometimes a series could be lucky enough to be produced by Fox however, and air on another network, such as Brickleberry. I'll go ahead and read a few of these quality pitches they passed on:
THE AFTERLIFE: a digitally animated comedy about a family that dies from a freak photography accident and winds up in purgatory, which looks a lot like suburban los angeles
GODPARENTS: animated comedy billed as a twisted family show about a couple ill-equipped to raise kids who are forced to take care of their godchildren
MASSHOLES: animated comedy a smart nerdy tween trying to survive in a small Massachusetts town full of tough guys and half-wits
SWELL: animated comedy about a family from the 1950s that is somehow transported to the modern day
SAY UNCLE: animated comedy about a family whose life is disrupted when their uncle moves in with them. Now this is a show I might have found interesting, considering half of the Home Movies production team was in on this.
These all come from the development watch catalog on The Futon Critic. Go there if you want proof I am not making these up, and to see other bizarre pitches. Back to why these shows never got picked up, the second problem seemed to rely in the creator. If Seth MacFarlane had no attachment to the project, the series was doomed. By 2009, Animation Domination became a near-monopoly for Seth MacFarlane, apart from Matt Groening. For the next two years, The Simpsons remained on the block next to Family Guy, American Dad!,and The Cleveland Show, until an unexpected newcomer broke the mold in 2011.
Chapter Two: Diversity Attempts (2011-2012)
In 2011, Fox attempted to break the pattern of MacFarlane's shows again with the premiere of Bob's Burgers. Created by Loren Bouchard, whose credits stretch as far back as Dr. Katz, Professional Therapist and Home Movies, his venture into Fox seemed doomed from the start due to initially poor critical reception and a hard time competing with the big shots. The show's quirky and off-beat humor was something unusual to the form of the other shows on the block. However, a second season was ordered, with the catch that it would be nearly a year until the show could air its next episode due to production times. Oddly enough, scripts were preemptively ordered in October 2010 in the event that a renewal could happen at the end of the season, but whatever the case, the second season was still delayed until March 2012.
In the meantime, a new show had to at least compete with Bob's Burgers, to fill in the coveted 8:30 PM slot, and because Fox ordered two other animated series that were not MacFarlane-branded. Note here that during this half of the 2010-2011 season, Fox had to decide which of MacFarlane's shows would be sacrificed to make room for the new show. American Dad! was thrown to the 7:30 PM slot to give advantage to The Cleveland Show, which was still fairly new and needed a chance to grow. Why Family Guy was not shifted around is unknown, but it could have been that Fox did not want to jeopardize an already-successful series for the third time, or catch flak from fans and workers for suffering another cancellation on the same show. Following the change, viewership for American Dad! dropped, with Bob's Burgers and The Cleveland Show maintaining a steady audience. During the 2011-12 season, a new show was given the 8:30 PM slot, this time being the critically-panned series known as Allen Gregory.
Behind Allen Gregory were David A. Goodman and Jonah Hill. Goodman already had experience as a writer and producer on Family Guy and Futurama, which put him in a good relationship with Fox. Wanting to break the mold of the dysfunctional, nuclear family sitcom on Animation Domination, Goodman and Hill created a show starring the latter as the show's namesake. Instead of a nuclear family, it was setup with two gay dads, an adopted child, and then our titular protagonist, Allen Gregory De Longpre. Besides breaking the nuclear family mold, it also broke the standard look of animation on Fox. Unfortunately, the animation is the only nice thing that can be said about the show. If you are curious on why this show was hated, there are plenty of reviews on the internet that perfectly sum the show up. Shortly after Allen Gregory started, it died. The show's existence has been forgotten about. Purposefully, the show was removed from digital sources and is no longer legally available to purchase, which is unlike the other unsuccessful Fox series. Allen Gregory was the red-headed stepchild of Animation Domination, and was immediately thrown to the curb. During Allen Gregory's use of the 8:30 PM slot, The Cleveland Show moved to 7:30 PM, and American Dad! found better success at 9:30 PM.
In January 2012, it was time for Fox to air another new animated series, which was a continuation of cult hit Napoleon Dynamite (2004). On its premiere, its first two episodes received a good amount of viewers, but two weeks later, the message became clear that it would not last when viewership became severely lacking. A week after Dynamite's last episode aired, Bob's Burgers returned for its sophomore season and began building an audience again. Not long after, even Kevin Reilly, Fox Entertainment Chairman, had nice things to say about Bob's Burgers. Bouchard had finally climbed the mountain of Animation Domination, and became the first creator who was not Matt Groening or Seth MacFarlane to have a show last more than one season on the block.
Chapter Three: The Unraveling (2012-2013)
With both Allen Gregory and Napoleon Dynamite failing, but with Bob's Burgers succeeding, it was clear that the block was no longer a MacFarlane monopoly. Eventually, David Goodman crawled from Allen Gregory's grave and offered a new animated show that would go back to conventional animation routes, while still bringing a new perspective to Animation Domination. Around the same time this announcement was made, a MacFarlane show was shelved. His Flinstones revival failed to gain traction with Fox President Kevin Reilly, and this began shaking the core of Animation Domination's block. In 2013, The Cleveland Show aired its final episode, and this became the first of MacFarlane's animated series to be axed by Fox in recent years. Family Guy had initially been cancelled, but revived several years prior, and is currently the only MacFarlane show still running on Sunday nights. The 2013-14 season became the last for American Dad!, which was shipped off to TBS so they could have the liberty of expressing more vulgarity than creativity in its dying days. With that fatal blow, Fox only had three regular animated series running, leaving The Simpsons, Bob's Burgers, and Family Guy, to hold the walls of Animation Domination up. In reflection, it seems that the pioneering block was unstoppable until this point. Looking back, there seems to be another reason for the untimely death. As it turns out, there was one more show that may have hit the nail in the coffin, before it had a chance to reach critics or even an audience. This would have filled in as the fourth show in the two-hour block, and had a chance to keep it alive for at least another season.
This new show heralded by Goodman and Jason Ruiz would be Murder Police, with an interesting array of cast members starring as members of a precinct in a crime-ridden city. Ordered for a season of 13 episodes and slated to air during the 2013-14 season, Fox promoted the show by taking the cast and crew to the 2013 San Diego Comic Con, where promo images were revealed and posters were distributed. A panel was held, giving the show creators a chance to talk with attendees who were interested in the show. Supposedly footage was shown, however I do not have a reliable source to back this up, nor any clips of the panel to support this claim.
By the time the new broadcast season began on Fox, nothing was said about Murder Police, which by this point was assumed to be delayed until spring. Shockingly, on October 8, 2013, Fox announced that they had cancelled yet another failed animated series, before it had even aired a single episode. Fox began taking down information about the show from its press site Fox Flash, and everything about the show seemed to be dead in its tracks. Presumably, you would think that the show was probably in an early production stage and taking too long to finish work, right?
Apparently, this was not the reason. Murder Police made it far enough in production that all scripts were completed by the time of its cancellation. According to the Copyright Catalog, the final episode script was copyrighted on August 7, 2013, three months before the fateful announcement, and almost four months after the copyrighting of the first episode's script. With that amount of time, the show was so far in its production that it was likely that episodes had been fully storyboarded, or possibly even completed. No reason had been given for the abrupt cancellation, and no one has spoken on the show's fate since that announcement.
Rather than stop everything, production apparently continued. It is evident as the Copyright Catalog indicates that all thirteen episodes exist on Betacam SP master tapes. On March 10, 2014, the first episode's tape was copyrighted, and the final episode was copyrighted 9 days later on March 19. As of the date of this video's release, no progress on the show's existence has been reported to the public, and no network has picked it up. Goodman has since moved on, and whether or not the show would have been another Allen Gregory, it is likely hard on people to work on something for so long, only for it to never see the light of day.
Strangely enough though, interest in Murder Police came into light two times after its cancellation. On January 7, 2015, another show animated at Bento Box Animation that was produced by Fox met cancellation, which was Brickleberry on Comedy Central. When burning off its last three episodes for season 3, "Cops and Bottoms" premiered on March 31, 2015, and ended up using the heads of Murder Police's main characters in a brief cameo. This is the only time images from Murder Police made it to television, even if there are slight differences in the character designs.
On July 27, 2015, the only footage known to exist was released on YouTube. User fluffybroadcast321 leaked the opening credits sequence to Murder Police, which runs for thirty seconds. While people commented on wondering how the user gained access to upload the footage, the uploader never responded and the mystery surrounding this bizarre release is still unsolved. Even more bizarre, the video has survived this long. Nobody from Fox's offices either seemed to notice, or care that it leaked. The show may not have been cut out for Fox's animation block, but that is not necessarily the end of the story. With the age of Netflix, the executives apparently liked Waco O'Guin and Roger Black enough to order a new series from them. What happens if you mix the art style of Brickleberry with the concept of Murder Police? You get Paradise P.D., which premiered early into 2019. Despite being a critical failure and a ripoff of its predecessor, it has gained enough of an audience for a second season.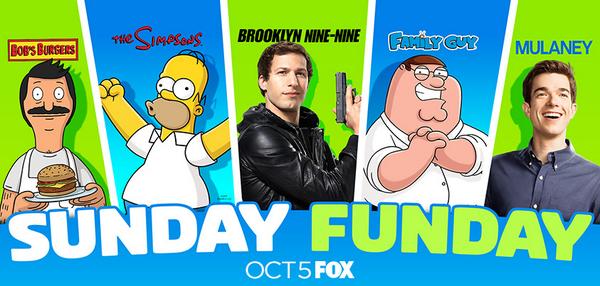 Chapter Four: Animation Dominated?
With no new ventures to try out, Fox killed their Sunday night staple, Animation Domination, after nine years. While the block was dead, a new one was created, now titled Sunday Funday, beginning with the 2014-15 season. This was likely due to Fox's slow shift away from animation, and for trying out new shows from Phil Lord and Chris Miller, such as Son of Zorn, a semi-animated sitcom that didn't live long. During the 2015-16 season, Fox aired Bordertown, yet another Seth MacFarlane show that was doomed from the start. Its first season would be its last, and was the last fully-animated show Fox aired after the death of Animation Domination. Another animated series, Golan the Insatiable, was given a second chance with the collapse of another Fox block, Animation Domination High-Def, or ADHD for short. Golan only premiered during the summer, and was cancelled before Bordertown's premiere. The history of ADHD is a bizarre story itself, but best saved for the next episode.
The following broadcast season, the lineup had changed yet again. Bob's Burgers is the only show that has consistently been renewed despite the odds of airing in the death slot for the last few seasons, and is anticipating a feature film in 2021. The Simpsons and Family Guy remain in their positions at 8 and 9 PM respectively, while the other two slots have seen various uses. Will Forte's live action series The Last Man on Earth used the 9:30 PM slot and had meager success. Despite this, the show's ratings were not sustainable and it met cancellation after its fourth season in May 2018. As for every other show that have taken the :30 PM slots, none have been as lucky. Brooklyn Nine-Nine was initially taken off of its Tuesday block for the 2014-15 and 2015-16 seasons, then given its spot back after its last episode on the Sunday Funday block aired on December 13th, 2015. Every other show has been cancelled after only one season.
Even with the death of Animation Domination to bring better life for Fox's shows on Sunday Funday, success has been considerably worse for their network. As for the fate of Murder Police, who's to say what will happen with the era of Netflix and other networks? While its death may have been intended to save the Animation Domination block, it also poses the question of whether or not the show may have been the block's last chance at survival. Since the agonizing death of many series on Fox, successful creators appear to be moving to the streaming platform. Matt Groening's Disenchantment premiered on Netflix in August 2018, as well as receive a generous renewal from the streaming giant. Loren Bouchard has two shows coming up, with The Great North to air on Fox, and Central Park on Apple TV Plus, handing the reins of Bob's Burgers over to Nora Smith. However, as much as streaming seems to be the new road for creators such as Raphael Bob-Waksberg, best known for Netflix's BoJack Horseman, producing Lisa Hanawalt's Tuca & Bertie and co-producing Amazon's Undone with Kate Purdy, there's been a recent struggle with the unionization of animators at Shadow Box. Tuca & Bertie became the first Netflix original animated series to be cancelled, with BoJack Horseman following suit just a few months later, and the fate of Undone remains unknown despite being renewed for a second season. It's possible that animation will do better on one platform than the other, but the lesson here is that ideas and demands change frequently. Disney opened its streaming platform Disney+ in November of 2019, and with its ownership in Fox, they are able to stream The Simpsons on there.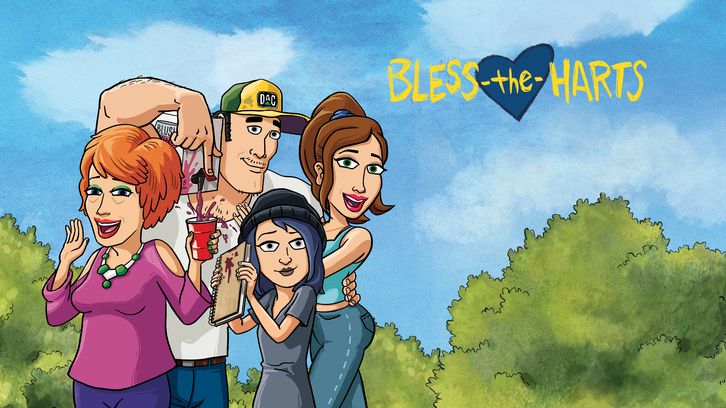 In an unusual twist, Fox announced after its collapse in 2014 five years later, the revival of Animation Domination, which has newcomers Bless the Harts and Duncanville. As for Seth MacFarlane, no new animated projects have been announced as of this writing. Family Guy still airs at 9:00PM on Sundays, and American Dad! has continued modest success on TBS.
While this analysis of Animation Domination does not equally cover some of the prehistory and other odd pieces of history involved with its death, there is still another large chunk to discuss as there were an entire block of other shows that had a minor connection in the death of Animation Domination.